Creation and the Crisis of Emptiness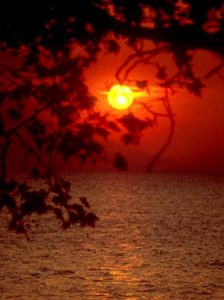 We learn a lot about God from watching what He does. God creates a wild and extravagant world because God Himself is wild and extravagant.
Eden exposes God's wild extravagance. Words like "teem," "expanse," "swarm" and "multiply" burst onto the pages of Genesis. In the very first chapter of the bible, Moses describes how God rids Eden of emptiness by bringing lushness into a barren, desolate world.
In Eden, God gives until every empty place is filled and doesn't rest until He reaches that goal. The heavens dazzle with stars beyond counting; waters teem with marine life; swarms of birds glide through the air; herds of animals roam the ground. God changes the pre-creation emptiness into extravagant lushness. (He's preparing for guests.)
Chocolates on Their Pillows
Most of us have had the pleasure of preparing for a guest's arrival. We turn on soft lights, put out fresh towels, straighten up pre-arrival messes, turn down their bed, prepare a dinner we know they'll enjoy. (Sometimes, actually often, I put chocolates on their pillows.)
God preparations are even more caring and careful than ours. He doesn't discover at the last minute that there are no clean sheets and that the dinner napkins didn't make it from the washer to the dryer. Not at all. God prepares perfectly. He first brings chaos into order(days 1-3), then fills those ordered places with extravagant abundance (days 4-6). He's readied a perfect welcome for Adam and Eve.
Post-Eden Problems
Our current world is no Eden. A sense of emptiness – perhaps fleeting, perhaps pervasive – replaces the abundance for which we hunger; it causes us to wonder if God's generosity has disappeared. Experience after experience plays tricks with our minds and deludes us into thinking God has changed. How many people do you know (include yourself) who believe God no longer holds the values He displayed in Eden? Questions arise. Doubts grow. Does God no longer loathe emptiness? Could it be that He no longer loves abundance? Has His power to provide fulfillment been lost? Question after question. Doubt upon doubt. Has God changed? Can we still depend on Him to nourish and care for us?
Frustration grows – largely because God has made us like Himself. He's placed His love of abundance and abhorrence for emptiness into every person on earth. Into Eve. Into Moses. Into Paul. Into us. We are built for more than earth has to offer.
So How Do We Cope?
How? We ask the Lord to replace our erroneous assumptions and train us to see (and accept) His very real earthly gifts.
Replacing Erroneous Assumptions – Let's Name a Few
Error: We assume the visible world is all there is. In truth, there's an invisible world all around us that's more solid than what we see.
Error: We assume we can re-experience the fullness of Eden this side of heaven. In truth, we can't. The perfection for which we are built has not yet arrived.
Error: We assume that our ideas about "what we need" are more accurate than God's. In truth, God knows what will actually bring us joy.
Error: We assume that we can destroy emptiness and produce abundance. In truth, we can do neither effectively. But, ignoring our limitations, we persist and try on our own to do what we think God can't do, won't do, or won't do as well as we can. (Consider addictive behaviors. They're a great example of acting on the assumption that we can replace God.)
Error: We assume that if God cared He'd fix earth's sorrows right away. But He waits, and we don't understand why. (If we're honest with ourselves, that's when we doubt His love.)
Learning to See (and Accept) God's Earthly Gifts

In order to see Earth's abundance we must cultivate a heart that's open to receive the "here" and the "now." Instead of focusing on what's missing, we must turn our focus to available gifts. We must practice acceptance and turn from coveting. When we focus on the "not yet," the "now" disappears and we feel empty. But when we focus on what's available? Then the now gains an unexpected richness.
Cultivating a receptive heart seems like such a simple solution, but it's profound. Earth won't ever match heaven's lushness. But it also won't ever be empty.
Aristotle said that nature abhors a vacuum. God (who created nature) not only abhors vacuums, He gets rid of them.

God hasn't changed. He still abhors a vacuum and still has the desire and ability to bring rich abundance into our lives. While earth will never match the glory of heaven, earth will give us tastes of heaven, sometimes exquisite tastes. These tastes of heaven may look different than we thought. Sometimes what at first seems empty will prove an unexpected path to joy. But however it looks, earth's now is never empty.
In this gap between Eden and heaven, God continues to have no tolerance for emptiness. He persists in His commitment to gift us. He still has the ability and desire to produce the abundance He (and we) love.
_______
May God give us hearts to be thankful for the abundances available now. And may He give us the patience and strength to wait for the perfect abundance yet to come.
Creation and the Crisis of Emptiness
© Lynne Fox, 2017
biblegrapes.com