Kid-Wisdom – When Your Kid Becomes Your Teacher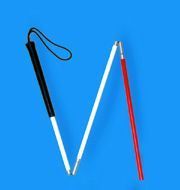 Some 30 years later I can still see the blind student tapping his way towards class with his long, red-tipped cane. My son and I stared in unison at his slow but steady progress.
Sensing a "teachable moment" (I was probably trying to instill compassion or something), I commented how hard it must be to get around when you're blind. Just like that my son became my teacher: "It's a lot better than being blind and staying home." He was right.
My son's words opened my eyes to something I'd missed. I saw the student's disability; my son saw his dignity.
Kid-wisdom! It falls outside adult boxes. If you Listen to kids, you'll pick up some gems.
What have kids taught you?
Kid-Wisdom – When Your Kid Becomes Your Teacher
© Lynne Fox, 2016
biblegrapes.com
This post shares a story from my book about dependable self-worth, Grappling with Your Identity.
Preview its Table of Contents. Read the Section Summaries and Reader Reviews.
And, to find out more about the dignity God gives you, order a copy for yourself.